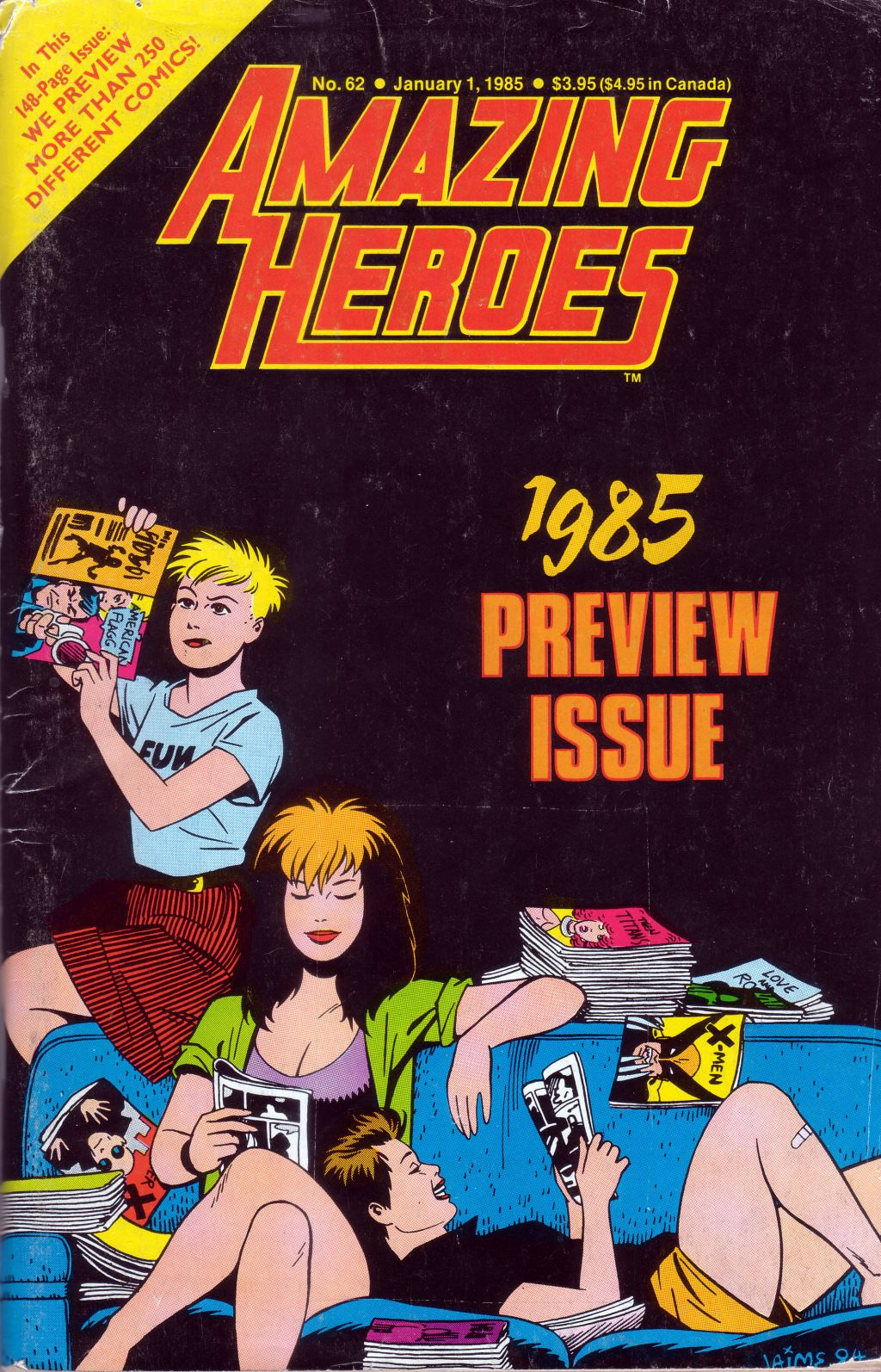 Fake comic announcement in Amazing Heroes annual preview issue. Amazing Heroes was a semi-professional fanzine from the 1980s that focused on the super-hero/action end of the industry. It was published by the same publisher as The Comics Journal, which began to focus on the "art" end of the industry at the same time. Amazing Heroes #62 was one of their semi-annual Preview specials that focused on the books that would be coming out for the next six to twelve months from publishers throughout the industry. They also had a little fun, inserting a couple of fake previews in each issue. This Preview, for year 1985, featured two. One for a book titled "It's A Potato" and one for "The Vegenauts."
The Vegenauts is described as to be published by Fantagraphics Books and written by Harlan Ellison. The article gives the following plot preview:
Comic books based on toys have had wide success in recent years, and Fantagraphics Books will be presenting its first foray into this field next spring when it launches The Vegenauts, based on Plastiqueoh's popular line of poseable figures. The series will be written by Harlan Ellison with art by Olga Tcherpinskaya and 'Lucky' Lou Swackhammer. Gary Groth edits.
The Vegenauts are the last free members of the entire Clorophus garden system, and all of their countryplants have been conquered by the Aphids, whom Ellison describes as 'evil and oppressive. Mean, too.' Led by Captain Spinach, the Vegenauts roam the universe in their ship, the Corn Husk. 'Its the cutest thing,' says Ellison. 'It's shaped like a corn husk.'
Why did Ellison, a noted science-fiction writer, choose this as his first regular comics series? 'It was just too good an opportunity to pass up. This is a theme I've been wanting to work on for a long time–a small band of vegetables struggling against an empire of evil aphids. Besides, those toys are so goddamn cute. Their arms move, and everything.'
Date Of First Appearance
January 1, 1985
Notes
This parody was published just before HE and Gary Groth, publisher of Fantagraphics, had their public falling out which has continued to this day. See elsewhere on this site for more information about this issue.